Protect Your

Eye Health.

Expert Eye Doctors with Advanced Diagnostic Testing in Pennsylvania
Caring for your eyes goes far beyond vision correction. Even if you think you have perfect vision, you could still have undetected eye disease. At Medical Optometry America, we're committed to the long-term health of your eyes.
Equipped with the most advanced diagnostic and therapeutic technology available, our specially trained eye doctors diagnose diseases at their earliest stages, treat issues before they become significant problems, and provide relief for existing conditions.
With Eye Health Centers currently in Horsham, PA, Newtown Square, PA, and Plymouth Meeting to serve the Central and Southeastern PA areas, we are rapidly expanding to provide a more proactive approach to eye care. Medical Optometry America is the Future of Eye Health!
State of the Art Medical Eye Care
Medical Optometry America focuses on providing primary Medical Eye Care to evaluate and treat the health and wellbeing of your eyes.
Personal, Caring Touch
Our Medical Optometrists offer the personal, caring touch of a primary eye care doctor, taking the time to get to know you and your eye health needs.
Cutting Edge Technology
Our offices are equipped with a comprehensive suite of advanced diagnostic and therapeutic equipment to detect and treat a full range of eye diseases and conditions.
Care Network Communication
As part of your care network, our doctors communicate and coordinate with your physicians and specialists to help optimize your total health.
Experienced
Team
Our team of Medical Optometrists have received extensive additional medical training including residencies and are recognized thought-leaders in their field.
Emergency Eye Care
Our team is on call 7 days a week for any eye-related emergencies, creating peace of mind for patients in our community.
What is a Medical Optometrist?

Optometrist. Ophthalmologist. Optician. They may sound alike but they all do different things. It can be confusing to understand. Who does what and what exactly is a Medical Optometrist?
Just as you have a primary care physician or a family doctor for your physical health and a dentist for your oral health, you need a Medical Optometrist for your visual and ocular health. A Medical Optometrist is an eye doctor who provides primary medical and non-surgical care for your total eye health.
And just as you get an annual check-up for your body and regular cleanings for your teeth, you should have an Annual Eye Physical every year for your eye health to stay on top of any changes before they become serious issues.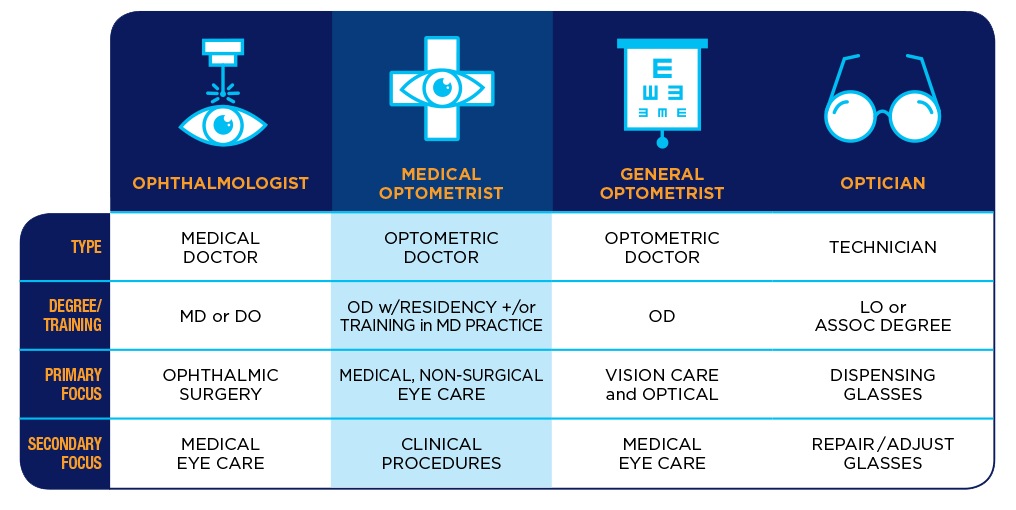 Medical Eye Care vs. Routine Vision Care